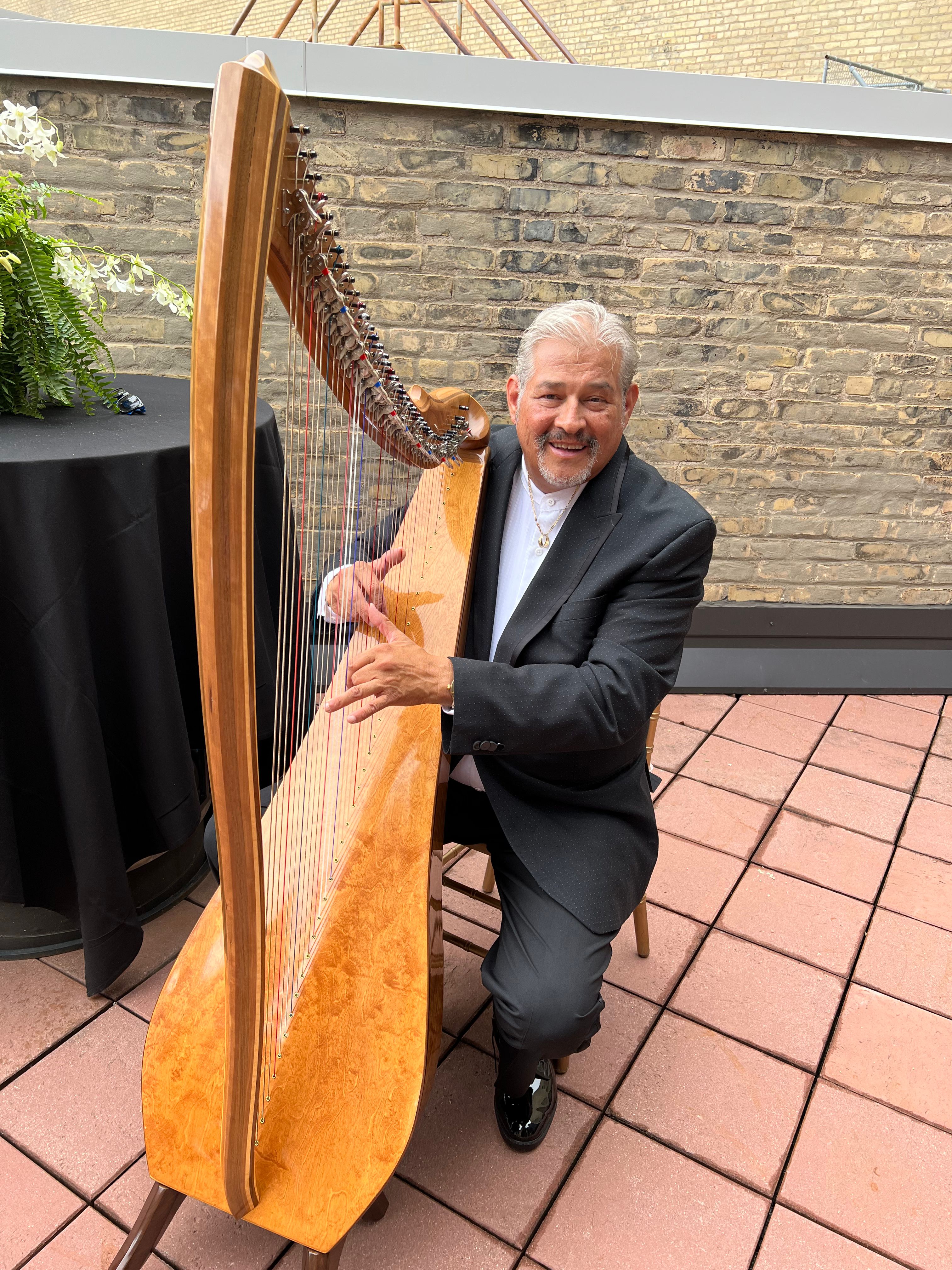 &Reuben's Newest harp. 
The Epic harp was designed by Music Makers in Stillwater, MN its extended soundboard mimics the profile of a grand concert harp producing a deep and rich resonant voice. The elegant design features five different types of wood. Cherry, Maple, Walnut for the column and neck, Birch for the soundboard and curly cherry for the sides of the soundbox amazingly this harp weighs less than 30 lbs it is sold as a 38 string instrument.
Beautiful Harp Music for all your weddings, parties, &  special occasions.
Private harp lessons available for all ages. 
Reuben Correa's     
Website 
Phone - 612-386-8196 (please text)
Reuben Correa is an Internationally Acclaimed Award Winning Professional Harpist,  Composer, Recording Artist and Teacher.
Reuben Correa – His Story:
Harpist, composer, recording artist and private harp instructor.
   Reuben began his musical journey on the piano at the tender age of 8 in Spokane, WA. He took to it like a fish to water using the sustain pedal to wrap himself in the beauty of blended sound.   It was way to deal with the constant moving his family endured due to the company his dad worked for. After 9 different schools by the time he was in 5th grade his family finally settled in Southern CA. Whew, finally a place to land.
   Reuben continued his musical education by joining the award-winning high school marching band under the direction of Ronald Large.  At 5'3 and only 98lbs he could not carry his beloved piano, so they gave him the next heaviest instrument…a tuba. 
   After high school he was off traveling again. This time in the US Air Force, where he encountered new musical influences in the Far East, and Europe as well as the Southern USA.    After an 11-year stint and an Honorable Discharge in hand he knew music was his passion.  Reuben was accepted into Bethel University's music department as a tuba major and there he met the harp.
   The music department was looking for students for the newly donated Lyon & Healy $25,000.00 hand carved, gold embellished concert grand harp.  And Reuben L. Correa was its first student.  He had found his musical passions met in an essentially beautiful vertical piano with sustain built in. His first mentor was Anne Ransom, Secondary harpist for the Minnesota Orchestra.
   She inspired, encouraged, challenged and patiently guided him all through out his musical career.  It is Anne's passion and professionalism for the harp and expert musicality that Reuben thanks daily in his journey to perform, compose, and teach his students as well.
    Mr Correa credits his second mentor, Francis Miller of the University of Minnesota, with teaching him to teach.  She exclaimed one day.  "You do not need to be taught; you need to teach"
Reuben with his students giving an outdoor concert during the Covid-19 pandemic.
His Recordings
Sea Whisperings CD approx. 55min. - Celtic and Classic Fusion Nine original compositions and five arrangements of familiar songs: Canon in D. Greensleeves, Be Thou My Vision, Jesu Joy of Man's Desiring.
Mantle of Peace CD approx. 58mins. - Christmas and Winter Holiday music. Popular Christmas Carols with 2 originals: Silent Night, Joy to the World, Ode Jo Joy, I Saw Three Ships.
From the Bottom of My Harp CD approx. 60min – Reuben's Thank You CD to his fans. They picked the pieces he's included. Includes 9 originals, Folk Songs, Hymns, and Classical Danny Boy, Simple Gifts, Amazing Grace,
Rock of Ages: 45 min. - Continuous improvisation, dedicated to Reuben's father who supported his music. His first attempt at healing music starts with his father's favorite hymn 'Rock of Ages' and ends with his wife's favorite hymn 'Come Thou Fount'
Our Beautiful Baby CD approx. 1hr. - this CD was recorded without drastic high or low volumes to soothe baby to sleep and keep them asleep. Includes: 9 originals. And 8 baby's firsts. (Celtic) Morning is Broken, (Sacred), It is Well With My Soul, (Classical) Sheep May Safely Graze and (Healing) My Hurry-up and Get Well Song.
Reuben's Newest CD A Peaceful Journey 1 hr. - Solo harp music for moments of tranquility and healing. 11 of Reuben's original compositions gradually reducing the pace to 60 beats per minute to take the heart and breathing rates to an optimal healing and pain cessation level.  Reuben was a direct recipient of this healing music when in 2016 after the recording process he suffered a stroke, leaving him speechless and unable to remember 5 1/2 hours of memorized music.  The calming music provided an uplifting healing ambience to the frustration and loss he experienced as a result.  He's now recovered his abilities to near 100%.
 He has been composing, recording and performing concerts and special occasions in the USA, Canada, and World for 35 years.
The Harps
Reuben built his first harp in 1987 his favorite, he calls it "Harpies" or (for rides in an airplane Celti C. Harp) . It always gets the window seat.
The frame is cherry and maple with a strong birch soundboard.  He finished it to resemble an instrument from the Gothic period and it has a rich mellow voice which can be clearly heard in most settings without amplification in medium sized venues and outdoors.
  This harp was a kit and is a product of Music Maker Kits in Stillwater, MN which now has a large selection of harps to choose from. There is a link to them on this site for more information. Reuben actually has two of these harps one of them made by his father in California thus the name "Sunny"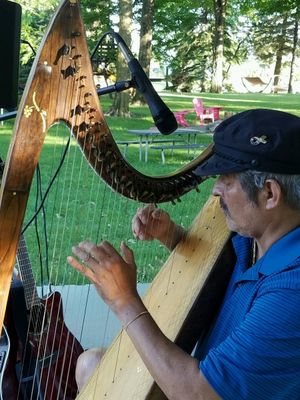 Sovereign Estates, Waconia, MN
 He also performs on a custom built harp by Steen Harps of WV.  They created a new style of 36 string troubadour harp in birds eye maple with a large spruce sound board.  This harp combines the classic Celtic shape with a Gothic style sound board and has a magical tone and sounds as if the music floats off the strings and surrounds the listener with beauty. Its name is "Francesca" and is the only blond his wife will let him hug. That's only because she doesn't hug back.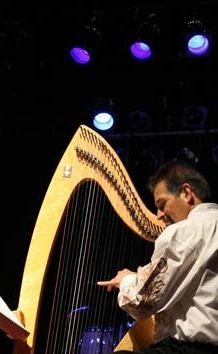 Wild Horse Saloon main stage, Nashville, TN
A fourth harp built by Reuben is a small Clairseach or wire strung harp.  "Friendly" is its name and he uses the harp in entertaining healing situations because it has a light bell like tone, which is very peaceful and personal.
     Of note: this harp is covered with more than 300 signatures of patients, medical personnel, acquaintances, family, and friends.  Reuben wanted to make these people a lasting part of his music in a permanent and unique way. It is perhaps the only harp in the world decorated in this manner.  It is finished to resemble an ancient harp pulled from and archeological dig.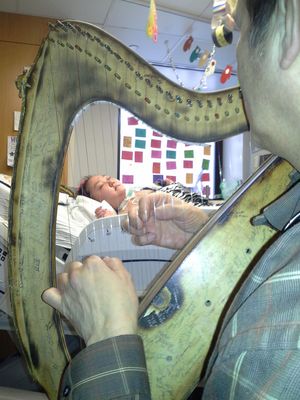 Entertaining an acquaintance with Friendly's soothing music
One fifth harp was created as a travel harp which was perfect for Reuben because he is a traveling teacher.  He brings it to the students homes to demonstrate technique and play along with his students. Its name is "Miracle" because he bought it a mere 2 weeks before his stroke and it was brought to the hospital to help him recover and relearn how to play.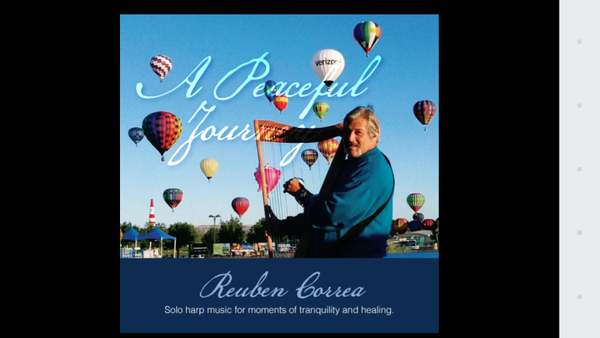 NM balloon Festival - cover option for Reuben's  6th CD project that wasn't used
 Prices
Reuben's event price is $150.00 per half an hour (30 minutes) by the clock. there is a 1 hour minimum. Most popular booking is 2 hours $600.00
Reuben is offering Virtual lessons on Zoom Cloudor face time for Iphone users.  Virtual Lessons are $50.00 an hour.  In Person Lessons are a minimum of $60.00 within the Hwy 494/694 loop. Lessons outside of the loop are more expensive depending on where you live up to 70 miles from Reuben's office.
 He reminds perspective students that renting a harp is much better when you are beginning, because if you find that learning the harp isn't really your cup of tea, you won't be stuck with a beautiful piece of furniture.
However if you develop a passion for the harp you can always buy one.
Also many of Reuben's students have one already they just never had opportunity to be taught. Now there is an easy inexpensive option.
Contact him at harpingdude@gmail.com,  or text, or call him. 612-386-8196 please leave a message in case he is not personally able to take your call.  He's either teaching, performing, recording, composing or sleeping.  He'll be happy to talk to you.
Reuben's CDs being carried locally by The Langdon Inc. in Mound , MN, and Seedlings Gifts and Books in Chanhassen, MN, Music Makers Kit shop in Stillwater, MN and nationally and internationally by cdbaby.com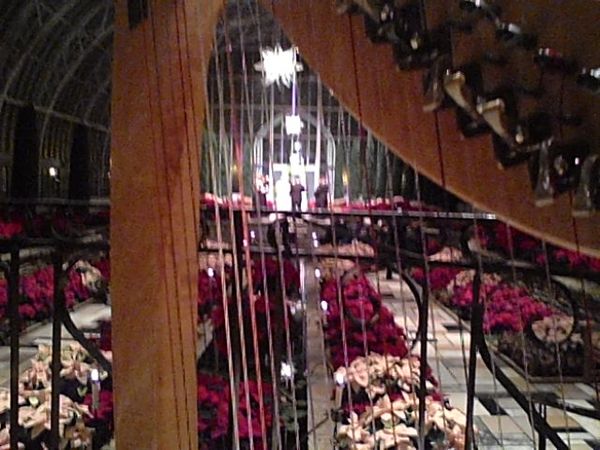 Indoor wedding framed in the strings of Reuben's harp in the Sunken Garden at the Como Park Conservatory, St. Paul, MN
Click on - Prices / Song List tab.
Are you planning an event? Click on - Prices/ Song List Tab
Please
Scroll down for more information.  
New Service
Plan to book Reuben's New Stroke Recovery Presentations for your club or organization.
Reuben demonstrates his recovery process within a humorous, touching blend of stories and music.
Email address:
 harpingdude@gmail.com    
  Phone number:
(feel free to text Reuben for a quicker response)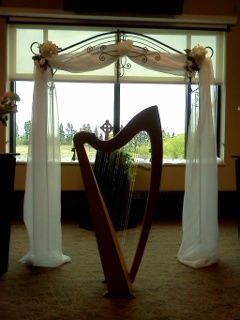 Wedding in the Link at Westwood Community Church, Excelsior, MN  
Reuben's  rate is  $150.00 per half and hour with an initial 1hour minimum.
- Free harp delivery within the 494/694 Twin Cities Loop
 - A free virtual or in person consultation to choose the music for your event.
  Free warm up and brief prelude. 
  Call or text  612-386-8196 please leave a detailed message in case Reuben is performing or teaching.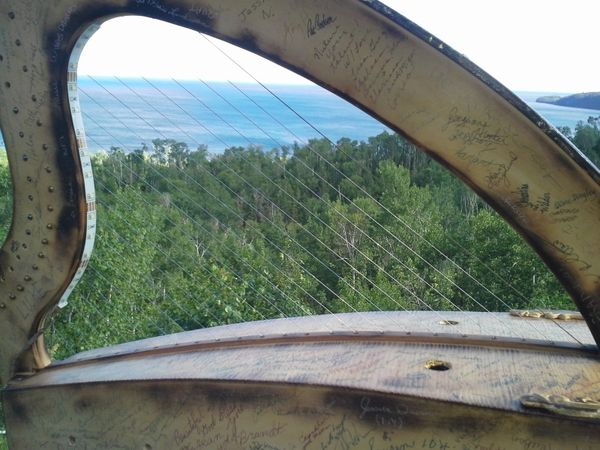 "Friendly" framing a view the north shore of Lake Superior in the background
 Listen to popular wedding  selections such as "Canon in D," "Jesu Joy of Man's Desiring" and "Prelude in C" on this site on the player located in the lower right hand portion of the screen.
You can also hear full versions of the tracks on Youtube or Spotify
  Join the email list and get news & information about musical things going on and  places to hear Reuben  perform Click  the Contact button. 
If you are interested in taking harp lessons, you will find that Mr Correa comes to your home or to a location of your choosing .
Harp Lessons
Reuben Correa is a traveling teacher rather than you schlepping your harp to his home office he comes to you.
Lessons are one hour in length and range from $60.00 if you are located within the Hwy 494/694 loop and up to $100.00.00 depending on the distance beyond that. He has a 70 mile limit. 
Oh you may choose virtual lessons at $50.00 per hour lesson
  Reuben supplies all lesson materials and has recommendations to obtain a harp.
Mr. Correa recommends that if you don't have a harp already, you should rent one before you buy to make sure that you have the passion for it.
Announcing!
A New CD just released titled
"A Peaceful Journey"
Harp music for moments of  tranquility and healing.
It will be a CD of originals by Reuben L. Correa.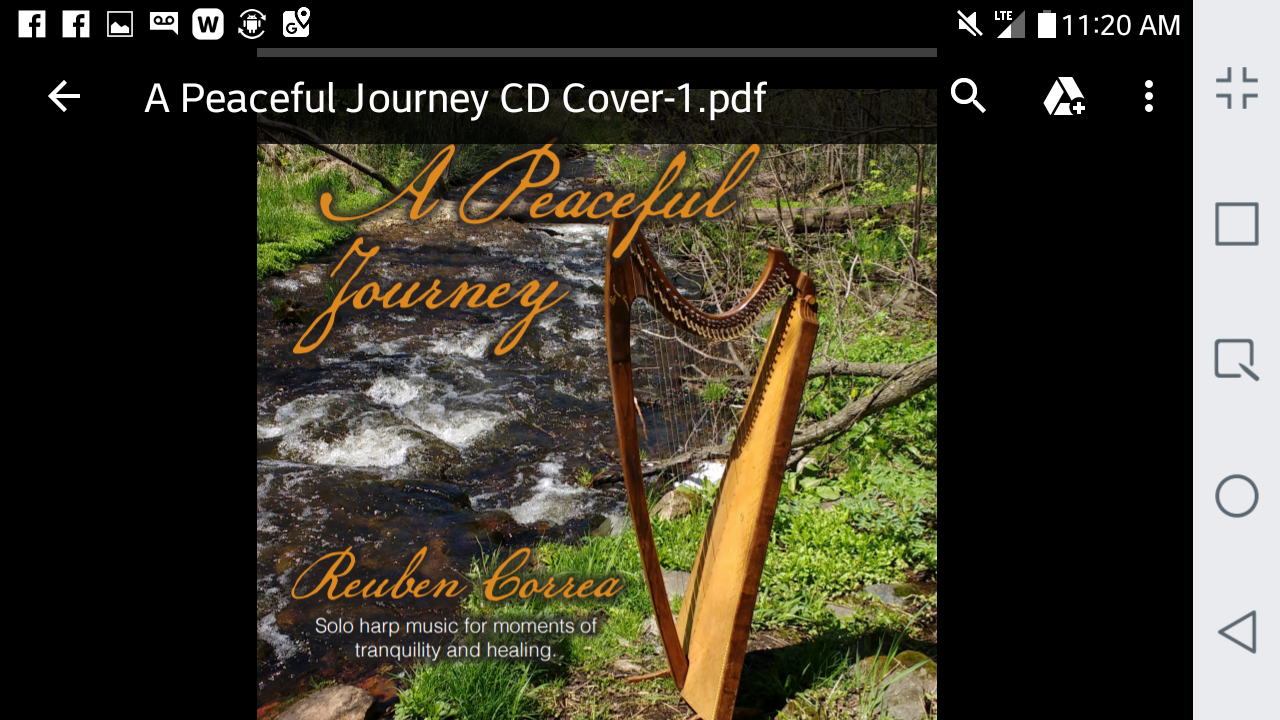 This CD is music that is just like Reuben's other CD's, recorded as a solo harp, as if he's sitting in your living room without you having to feed him.
 This CD is for the purpose of providing relaxing, calming, and healing moments.  With over 30 years of playing special occasions and healing sessions Reuben has studied the healing, pain reduction, and stress relieving nature of music. Especially harp music.
 Healing through music is enhance by bringing the heart rate down to an average of 60 beats per minute.
 Reuben strives to do just that... to create a healing sounds evironment with the Artistic and creative intertwining of melodies, and harmonies he doesn't use special effects or pre-recorded sounds or singing, just harp. The price for this new CD is $18.00 the price includes shipping.
    Ordering CDs
Send checks or use Paypal or Zelle (a free bank to bank service) and shipping address to Reuben Correa 6022 Golden Valley Rd. Minneapolis, MN 55422 use this email when paying with either service. harpingdude@gmail.com.